Whether you're a diagnostic assay manufacturer, an industrial company looking for a slide solution to fit a product or
process, a clinical technician looking to fill a laboratory need, or a distribution partner looking to fill a customer need...
we've got you covered.
Our glass substrates and printing inks are unequalled in quality and performance. All 25mm x 75mm slides have finely ground edges. Slide print coatings available in either standard, hydrophobic or super-hydrophobic inks and all are highly resistant to common laboratory chemicals and fixatives.
Choose from our long list of standard slides, or design your own custom microscope slides
Super Hydrophobic PTFE Coated
Slide, see product below.
| Description | Packaging | Cat # |
| --- | --- | --- |
| ADHESIVE COATED SLIDES | | |
| Hybridization Slide | 72 slides/pkg (20 pkg) | Cat # 063 |
| Poly-L-lysine Slide | 72 slides/pkg (20 pkg) | Cat # 067 |
| Silane Slide | 72 slides/pkg (20 pkg) | Cat # 068 |
Prevent loss of paraffin embedded and frozen sections for histologic staining
Custom adhesive available
Minimum order 1440 (10 gross)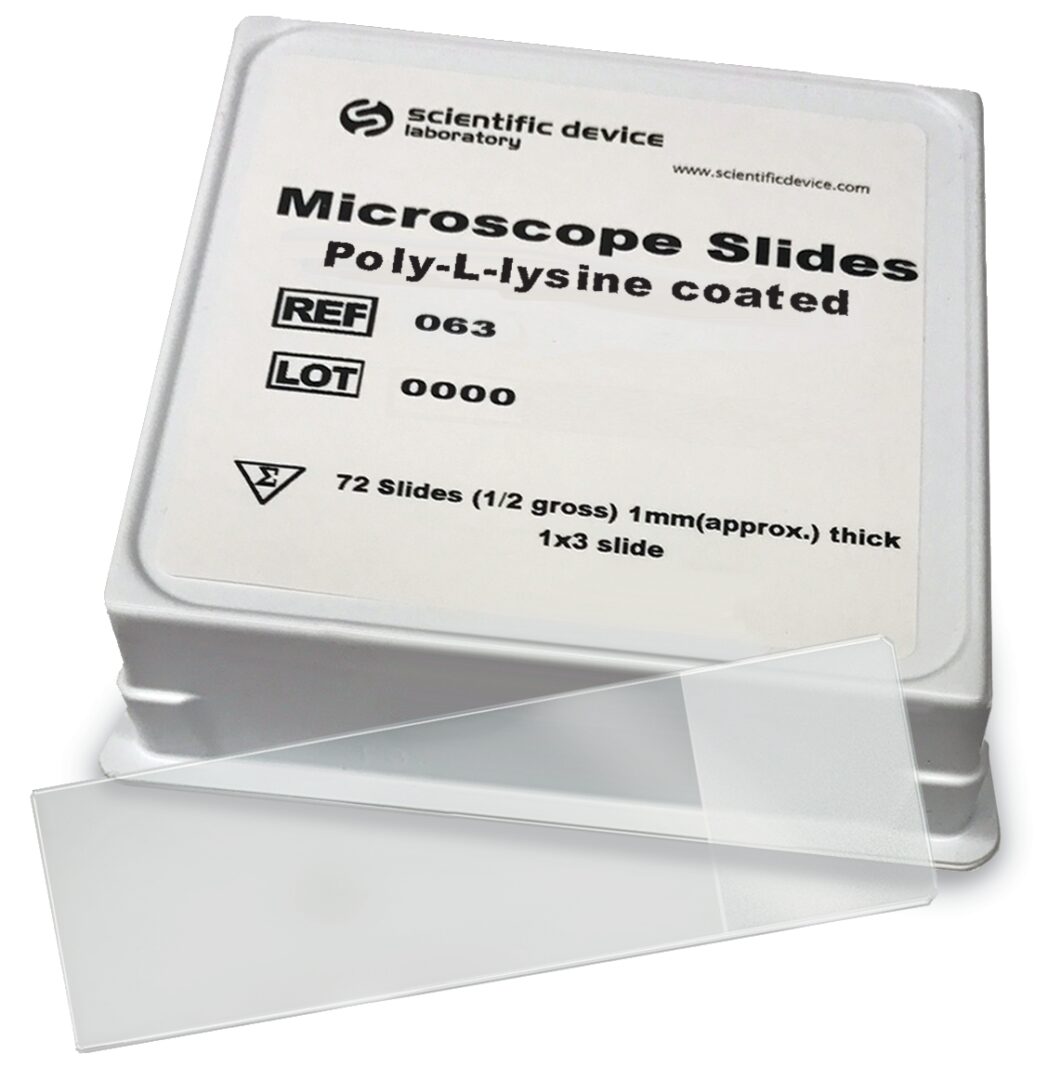 AGGLUTINATION SLIDES
Agglutination Plate 30 Well - Clear Glass
6 plates/pkg
Cat # 074-3023C
Use for latex and febrile agglutination techniques
Create custom designs for your lab's specific needs. Note that custom orders cannot be returned
6.25" x 6.25" x 3mm thick
| Agglutination Slide 8 Round Well | 72 slides/pkg (2 pkg) | Cat # 074-2 |
| --- | --- | --- |
| Agglutination Slide 8 Square Well | 72 slides/pkg (2 pkg) | Cat # 074-1 |
Use for latex and febrile agglutination techniques
Create custom designs for your lab's specific needs. Note that custom orders cannot be returned
Can be washed with most detergents
Optional glass thickness available
Agglutination Plate 36 Well
Clear and Black Glass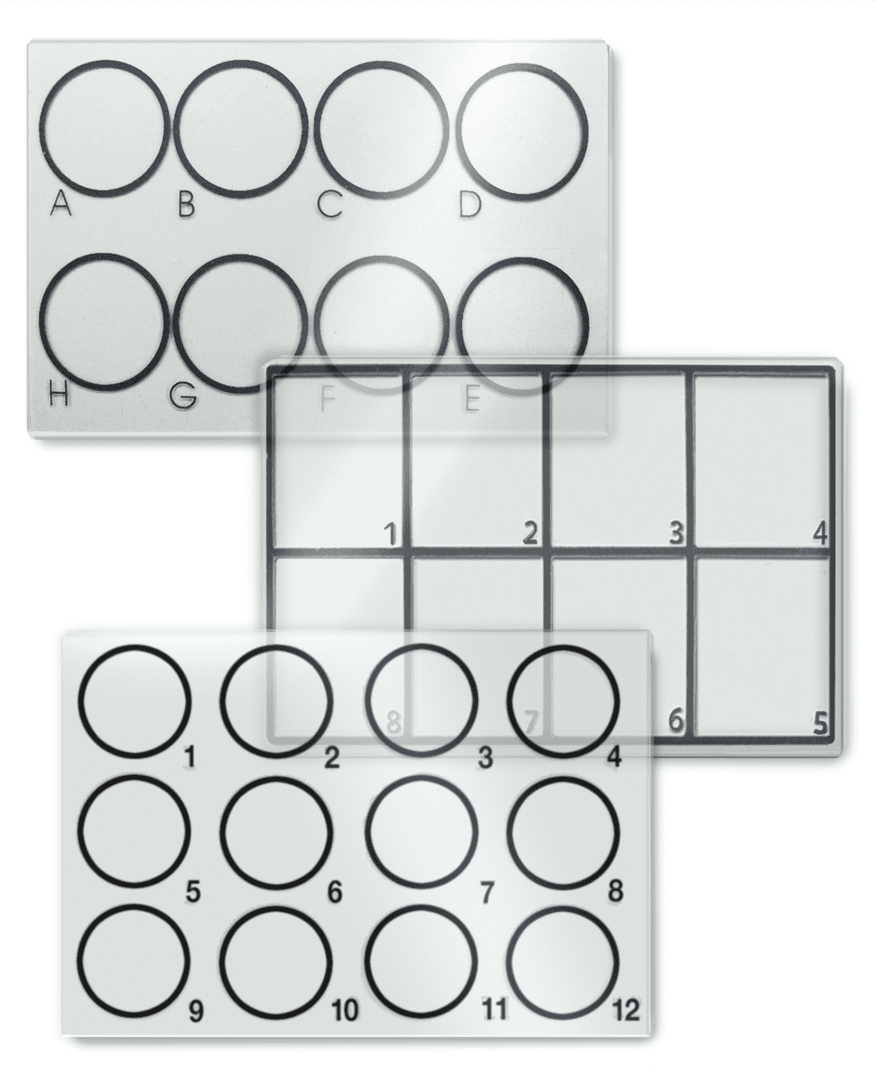 CYTOSPIN SLIDES
CytoSpin Slide Elitech/Wescor
72 slides/pkg (20 pkg)
Cat # 056-1
CytoSpin Slide Shandon 1 well
72 slides/pkg (20 pkg)
Cat # 057-1
CytoSpin Slide Stat-Spin™
72 slides/pkg (20 pkg)
Cat # 060-1
CytoSpin Slide Stat-Spin™ Cytofuge
72 slides/pkg (20 pkg)
Cat # 062-1
Locate centrifuge-smears quickly by precisely framing sample
Replace grease pencils with permanent hydrophobic epoxy ink that resists most solvents
Optional poly-l-lysine or silane coating available
Minimum order 1440 (10 gross)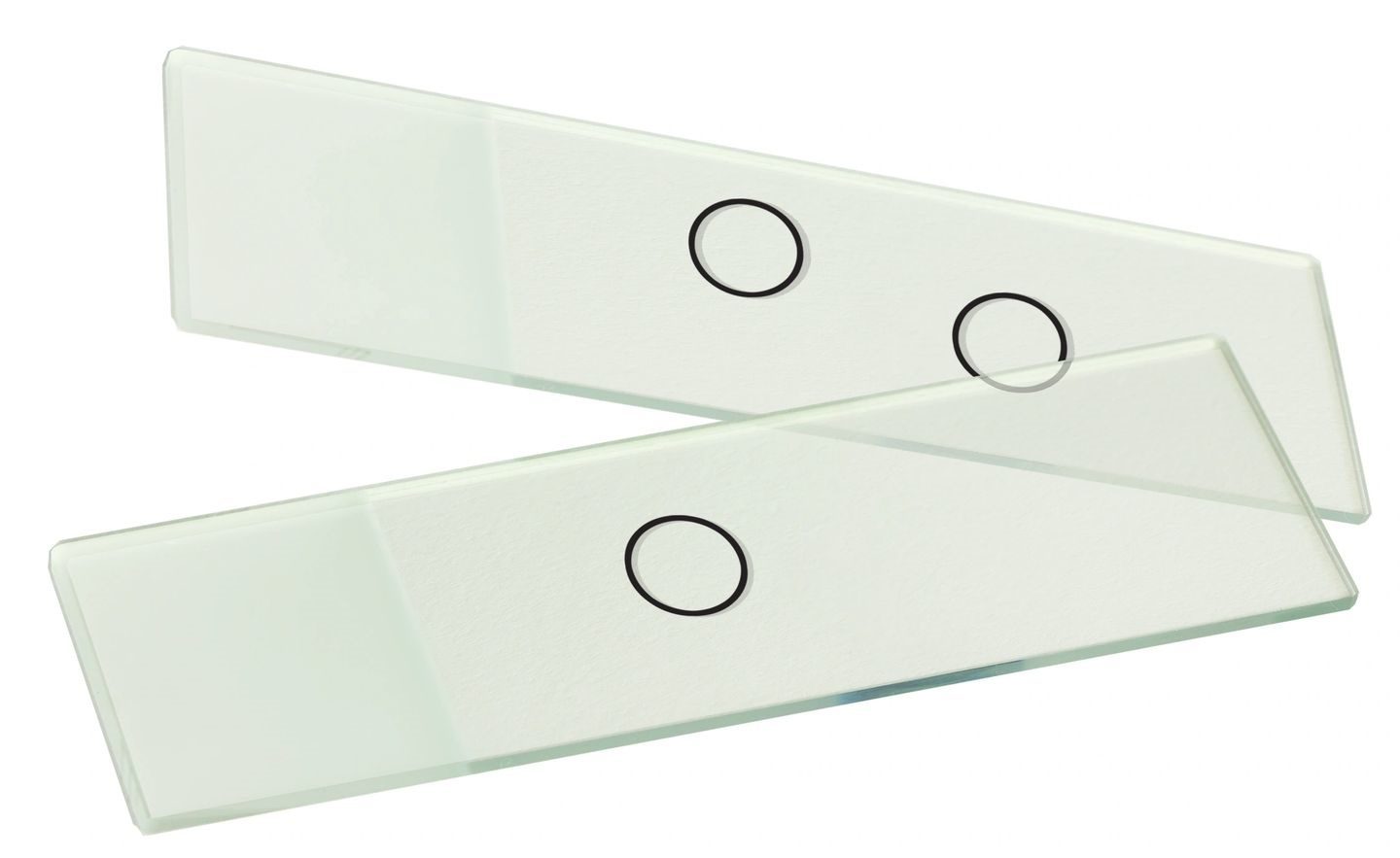 GRAM STAIN SLIDES
Gram Stain Slide - 8 Squares with Numbers
72 slides/pkg (20 pkg)
Cat # 030-1
Gram Stain Slide - 8 Squares without Numbers
72 slides/pkg (20 pkg)
Cat # 030-2
Gram Stain Slide -10 Squares with Numbers
72 slides/pkg (20 pkg)
Cat # 030-3
Locate smeared area easily within clearly defined wells that will not cross-contaminate
Train new technicians quickly in locating hard-to-find smears
Avoid wax pencil lifting off slide and leaving artifacts after staining
Customization available
Minimum order 1440 (10 gross)
Gram Stain Slide -
10 Squares with Numbers
GRID SLIDES
Grid Slides - No Mask
72 slides/pkg (20 pkg)
Cat # 044
Grid Slides - Black Mask
72 slides/pkg (20 pkg)
Cat # 044-2
You can note exactly where an organism is located on the microscopic custom grid printed on the reverse side
Each square grid fills one low powered field - 100x magnification
Black grid on the reverse side of the slide
Ink is resistant to stains and common laboratory solvents
Customization available
Minimum order 1440 (10 gross)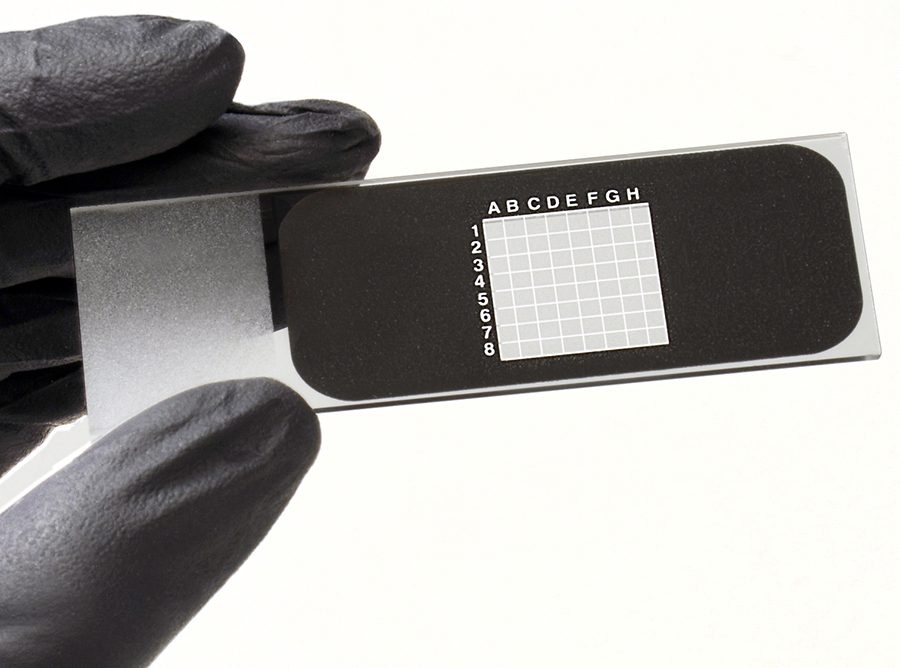 HYDROPHOBIC COATED SLIDES
Hydrophobic Coated Slide
72 slides/pkg (20 pkg)
Cat # 041
Super Hydrophobic PTFE Coated Slide
72 slides/pkg (20 pkg)
Cat # 041-T
Used for immunofluorescence, immunohistochemistry and cell cultures
Super-hydrophobic properties prevent cross contamination.
Resistant to harsh lab chemicals
Customization available for any manual or automated process
Choose from standard or custom colors, ink wall height, optional adhesives, drilled wells, and more
Clear or frosted ends available
Expedited turn-around of less than 3 weeks
Bar codes available
Minimum order 1440 (10 gross)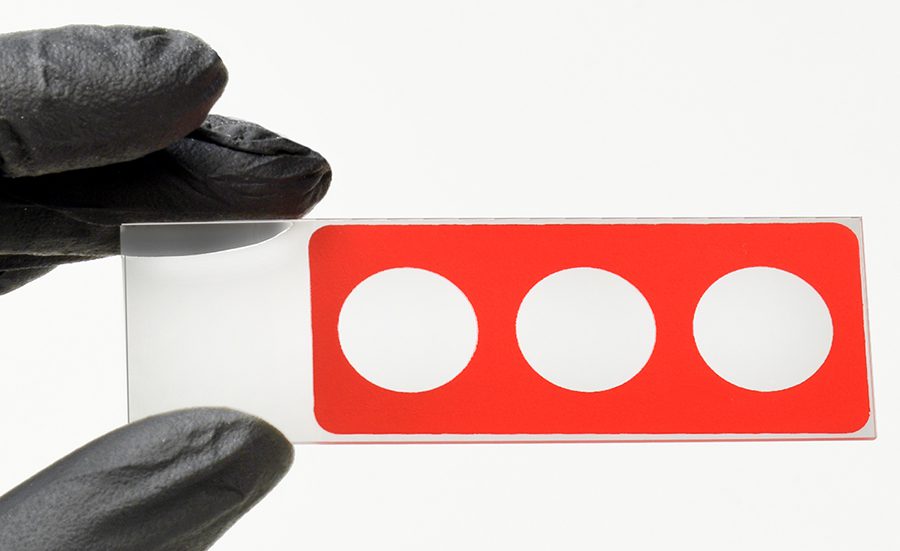 Super Hydrophobic PTFE Coated Slide,
3 well custom color mask
Super Hydrophobic PTFE Coated Slide,
64 well with black mask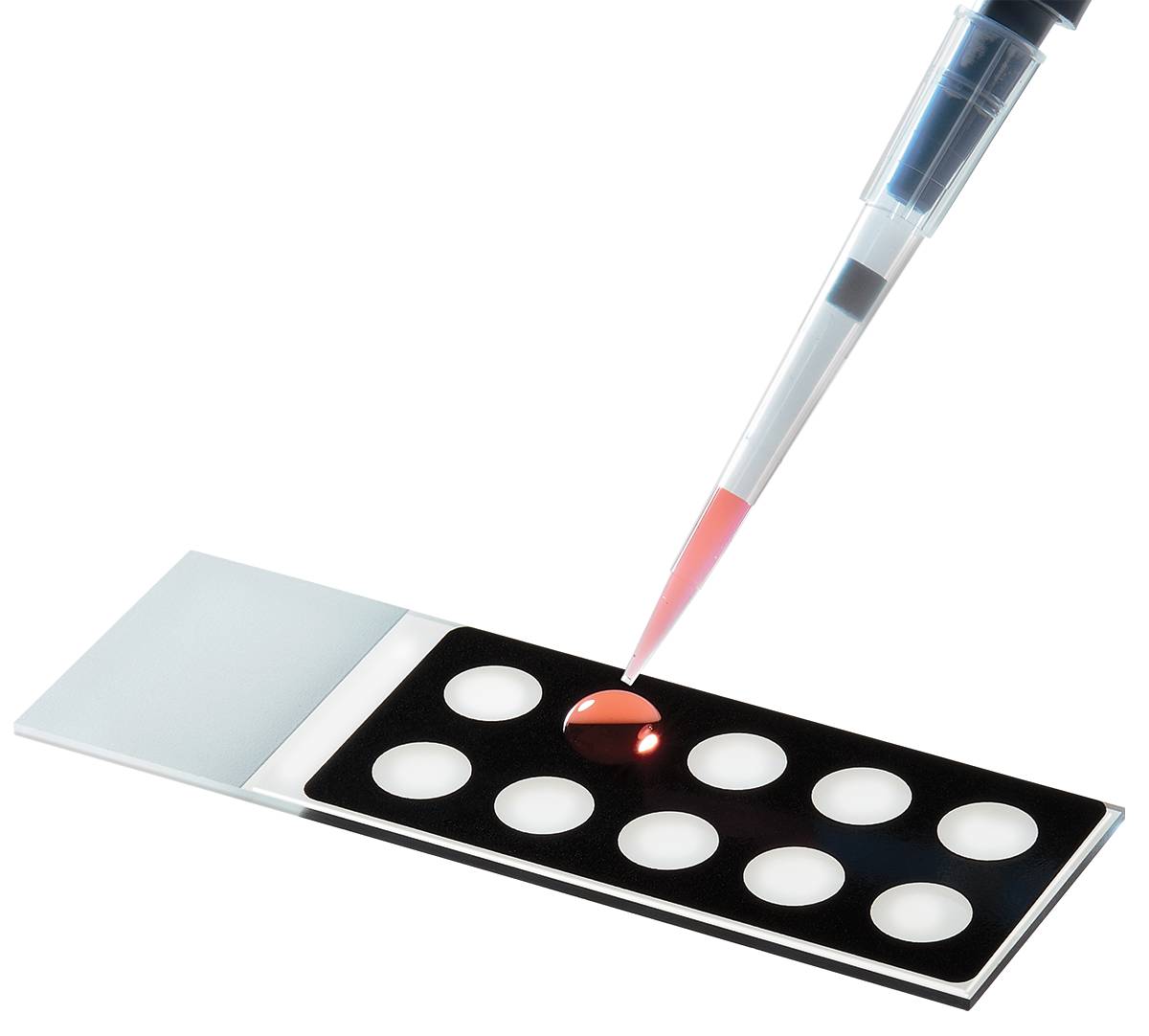 Super Hydrophobic PTFE Coated Slide,
10 well black mask
PLAIN SLIDES
Microscope Slide Plain
3600 slides/pkg
Cat # 045
Microscope Slide Print Frost End
(20) 72/case
Cat # 050
Microscope Slide Print Frost End Optional Colors
(20) 72/case
Cat # 055
Colors: red, green, yellow, blue, white
Minimum order 3600 (25 gross)
STERILE SLIDES
Sterile Slide Frosted End
50 slides/pkg
Cat # 050-S
Sterile Slide White End
50 slides/pkg
Cat # 050-1S
Sterile Slide Yellow End
50 slides/pkg
Cat # 050-2S
In individual envelopes - autoclaved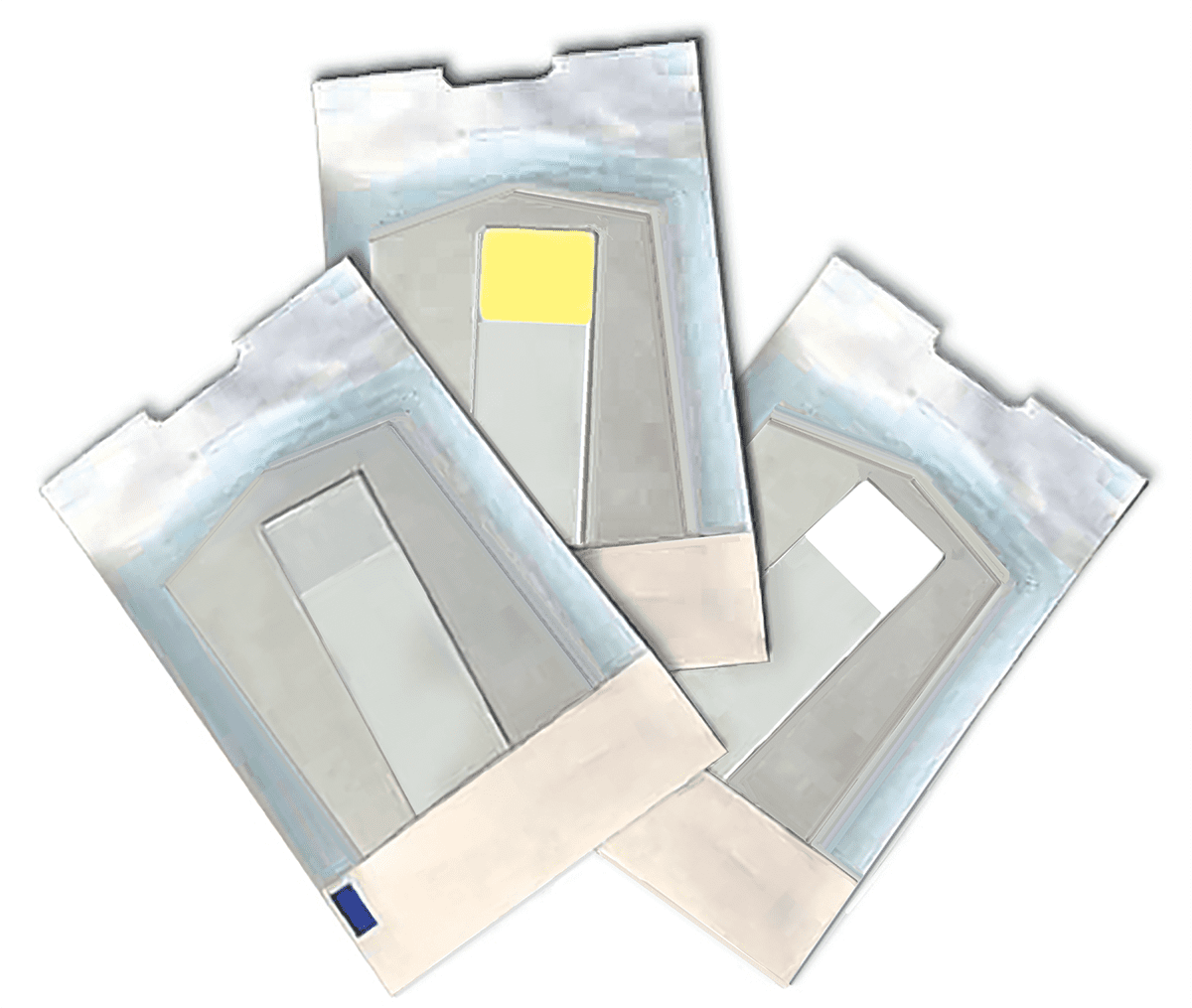 TB SLIDE
TB Slide
72 slides/pkg (10 pkg)
Cat # 041-0120
Locate smears easily and quickly
Train new technicians to locate hard-to-find organisms
Increases contrast for fluorescent staining with black epoxy background mask
Minimum order 720 (5 gross)